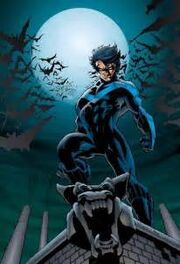 Write the Born as an acrobat,and trained by Batman,the first Boy Wonder is all grown up and fighting for his own city...as Nightwing! 
Background
After the tragic death of his parents at a young age,young Dick Grayson was trained as the first Robin,but after leaving for the Teen Titans,he became Nightwing,and subsequently after the Titans disbanded,set up operations in a city as dangerous as Gotham...Bloodhaven.
Abilities and fighting style
Edit
Fighting style:Escrima
Relying more on speed and maneuverability,Dick relies on his speed and natural skill with Escrima sticks to win the day.
Job:Ninja
Like many Batkids,Dick is a master of sneaking around.
Age:21
Weapon:Escrima Sticks
Nationality:American
Homeworld:Gotham City
English voice actor:Sean Maher